Thorvie International Dedicated to Your Success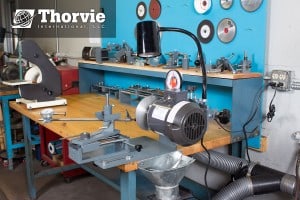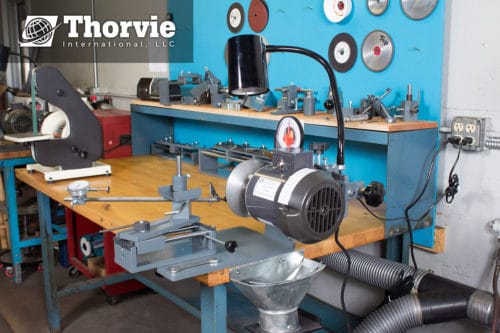 If you want to be an entrepreneur in the tool sharpening business, Thorvie International is your source for a superior carbide saw blade sharpening machine.
Thorvie's AV-40 is a professional grinder that sharpens saw blades, face, top and side grinds ranging from 1-7/8″ to 30″ diameter. With its compact size and economical price, it is also one of the easiest and fastest machines to set up and operate.
The machine's motor maintains a wheel RPM of 3450, which is essential when grinding carbide tooling. Its bearing assembly also has four bearings vs. three, something typical grinders have. This allows the AV-40 saw blade and tool holder to provide precise grinding performance as the saddle bearing assembly is solid with no play whatsoever.
When comparing the AV-40 to other carbide saw blade sharpening machines, there really is no contest. The AV-40, with its superior quality, combined with Thorvie's dedication to helping you be a success, are a winning combination you won't find anywhere else.
For more information on the AV-40, the superior carbide blade saw sharpening machine, call 866-497-0572.
Rick's Tip
To get best accuracy when sharpening a carbide tipped saw blade on the AV-40 carbide saw blade sharpening machine is to use the roundness gauge. After you are through face-grinding the carbide teeth, set up to top-grind the teeth. Use the roundness gauge to check the heights of the carbide teeth to see if the alternate bevel tips are the same height. If the left cutter teeth are taller than the right cutter teeth, lightly, sharpen the right cutter teeth first.
After you have finished sharpening the right cutter teeth, the left cutter teeth will now be taller. Now sharpen the left cutter teeth with a heavier grind to get the left and right cutter teeth to have the same reading on the roundness gauge. The blade will now be perfectly in balance with all the carbide teeth doing equal amounts of cutting. With the AV-40 carbide saw blade sharpening machine, you have the control to perfectly balance every saw blade that will come into your shop ensuring the best results for your customers. A lot of automatic sharpening machines will leave that same saw blade out of balance.