Thorvie Is Your Source for Saw Sharpening Equipment and Accessories
Whether you are looking to sharpen your own tools or to sharpen tools as a business venture, Thorvie International has the saw sharpener equipment and support you need to get the job done and be successful in the process.
There are some key attributes to look for when choosing a saw sharpener says Ken Frea, Thorvie International president. "Unless you have an unlimited budget, you don't want a piece of equipment that is limited to sharpening just one specific type of machine," he says. "You want equipment that gives you versatility to service all types of customers."
Thorvie's AV-40 professional grinder sharpens saw blades, face, top and side grinds, and will sharpen different cutting tools like raised panel cutters and profile cutters as well as anti-kickback router bits and shaper cutters without motor interference.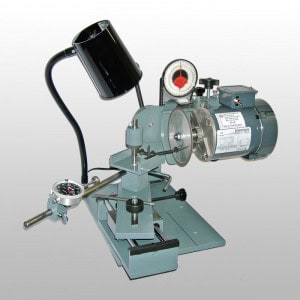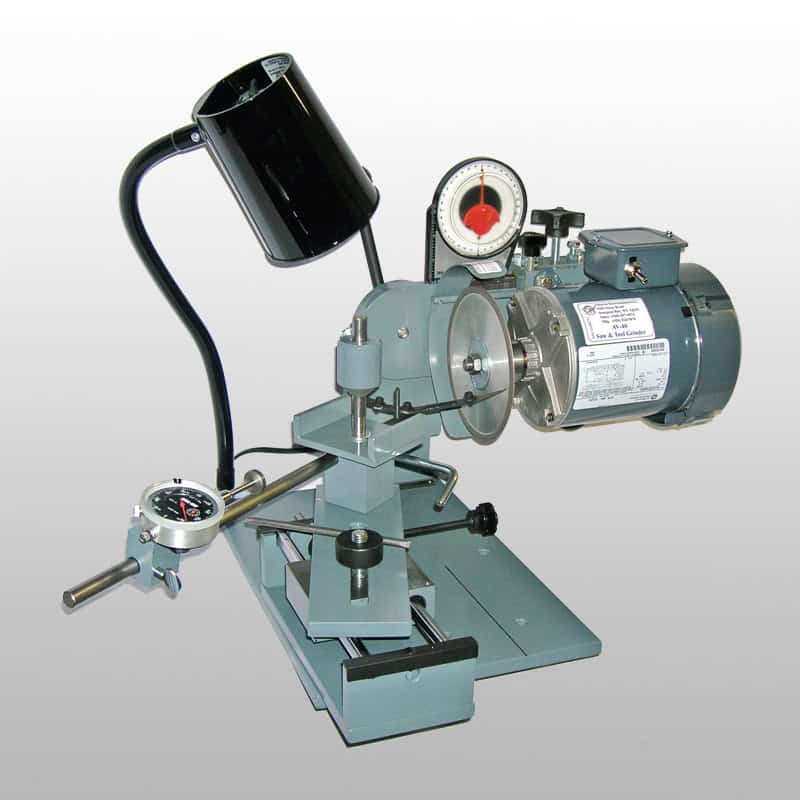 Its motor maintains a wheel RPM of 3450, whereas other carbide saw grinders on the market actually slow down or stop the wheel when grinding. The AV-40's bearing assembly also has four bearings, while many other grinders typically only have three. This allows the AV-40's saw blade and tool holder to give precision grinding performance as the saddle bearing assembly is solid with no play whatsoever. Finally, the AV-40 is far less expensive compared to other systems.
Of course, Thorvie International also provides information on sales techniques, information on where to purchase supplies, tips and tricks, price lists and much more to help entrepreneurs succeed.
Rick's Tip
There are many saw blade manufacturers and each one specifies the required angles for their blades. Almost every 10" and 12" alternate top bevel saw blade will be 10, 15, 20, 30, or 40 degrees, but all in multiples of 5 degrees. Often times, however, the blade number is worn off so you can't even look it up if you wanted to. When that happens, I use an angle finder to get the correct alternate top bevel angle and set my motor angle accordingly. I then align the carbide tooth to the grinding wheel and lock down the blade into the cup and cone fixture. Using a felt tip pen, mark the tops of 4 to 5 carbide teeth and do a scratch test with the grinding wheel to make sure the top alternate bevel and the clearance angle is matched to the grinding wheel properly. This will allow you to see exactly where you will be grinding on the tooth so you can match the factory angle settings.
Finding model numbers and specific angles for saw blades can be tricky. Some companies freely provide the information, but others want you to sell their blades in return. At the end of the day, these companies want to sell more blades, and when we sharpen them we are taking away their business.
My recommendation would be to search online for "saw blade manufacturers." Find a company with a downloadable catalog that includes their full saw blade product line with product numbers, hook angles, alternate bevel angles, relief angles, kerf size, what type of wood to cut, whether to use a chop saw or table saw and more for each saw blade.
If a company does not have a downloadable catalog, contact them and request a product catalog to see the full product line. Hopefully, they will mail you a catalog with all the different model numbers and angles for future reference.
For more information on what to look for in a saw sharpener, a Thorvie sharpening machine, and other sharpening machines the company offers, call Thorvie International at 866-497-0572 or visit the website at thorvie.com.